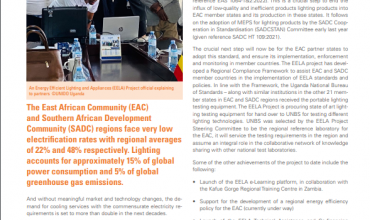 The EELA project is providing each of the 21 Member States in the EAC and SADC regions with state-of-the-art portable lighting testing equipment to strengthen their capacity for market surveillance of lighting products. This will enable the screening of lighting products in the market and facilitate verification of their compliance to the Minimum Energy Performance Standards (MEPS) for lighting in these countries, and facilitate intelligence sharing and collaboration on enforcement activities.
In addition, three regional reference laboratories (in Uganda, Zambia and Mozambique) are being capacitated to service the testing requirements in their respective regions and act as reference laboratories to other national laboratories. Each laboratory is being provided with equipment for testing lighting products, and trained in the use of the equipment. 
This article - which appeared in the July/August issue of the UN Uganda Bulletin, gives an overview of the EELA project and reports on the hand-over of the portable testing equipment to the Uganda National Bureau of Standards (UNBS) and it's selection as one of the Regional Reference Laboratories.