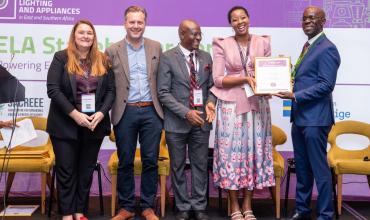 The first-ever Award Certificates were introduced to EELA Champions on 29 Mar. 2023 at the annual EELA Stakeholder Forum in Nairobi, Kenya, in the presence of an in-person and online audience of more than 100 Delegates. The awards recognized outstanding Country Action, Institutional Leadership, and Personal Leadership in promoting energy efficient lighting and appliances in the EAC and SADC region.
Country Action Awards:
Eswatini, and Namibia, for championing the adoption of the regional EELA MEPS for lighting at national level
Kenya, and Mozambique, for championing Energy Efficient Appliances in the national Energy Efficiency Strategy and Action Plans
Mauritius, for the Implementation of a national Product Registration System, which will serve as a best practice for the development of the regional system
Rwanda, for exemplary leadership in the EAC region through the adoption of EELA MEPS for lighting at national level, and for championing the adoption of a National Cooling Plan
South Africa, for outstanding leadership in Championing a national energy efficiency labelling programme which will serve as the basis for the adoption of a EE Label in the region.
Institutional Leadership Award
Kafue Gorge Regional Training Centre (KGRTC), as the first regional training centre in the SADC and EAC region to host a comprehensive EELA training program and for partnering with the EELA project for the first training cycle for EELA Change Agents
Personal Leadership Awards
Ms. Belinda Soko Kancheya, Regional Coordinator, SADCSTAN, for outstanding leadership in guiding the regional adoption of MEPS in SADC. Her personal efforts contributed substantially to the buy-in and adoption of regionally harmonised standards for lighting.
Mr. David Mutisya, Senior Deputy Director Renewable Energy: Ministry of Energy (Kenya), for outstanding leadership to promote country and regional EELA action. His personal efforts have motivated other countries to follow and take words into action.
Ms. Cynthia Alexander, Principal Officer: Renewable Energy and Energy Management, Energy Commission (Seychelles), for outstanding personal efforts at country, regional and international level. Ms. Alexander was also recognized for promoting female leadership in her capacity as an EELA gender focal point.
Mr. Usamah Luutu Kaggwa, Acting Assistant Commissioner, Ministry of Energy and Mineral Development (Uganda), for outstanding personal efforts to drive the national and regional EELA agenda. His proactive engagement in the EELA project demonstrated the importance of individual champions who lead by example and motivate others to join the path.
Congratulations to all recipients for their commitment – you are an example to us all!