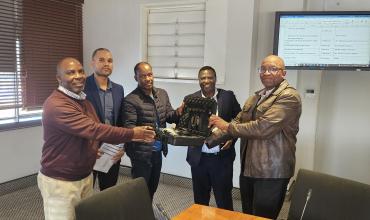 South Africa, the latest member country in the East African Community (EAC) and Southern African Development Community (SADC) region, has received essential portable testing equipment for conducting surveillance activities on lighting products within the market. This equipment is a significant step in screening lighting products, verifying their compliance with regional Minimum Energy Performance Standards (MEPS), and fostering collaboration between member states through intelligence sharing.
Global Collaboration for Enhanced Enforcement
The findings from these market surveillance activities will be compiled into a comprehensive report, guiding data-driven policy decisions. The initiative also aims to engage custodian organizations from different countries in intelligence sharing and enforcement collaboration efforts. The Department of Mineral Affairs and Energy (DMRE) in Pretoria hosted the equipment handover event on 29 June, attended by representatives from the Department of Trade, Industry and Competition (the dtic), the United Nations Industrial Development Organization (UNIDO), the SADC Centre for Renewable Energy and Energy Efficiency, the SA Bureau of Standards, and the National Regulator for Compulsory Specifications (NRCS). The NRCS will be the custodian of the equipment in South Africa.
Committed to Regulation: A Message from Mr. Legodi
Mr. Maphuti Legodi from the DMRE expressed his gratitude to the EELA project, stating, "We are committed to eliminating inefficient products in the region, including light bulbs and luminaires. We will work with our test facility and NRCS to regulate our market effectively." The acting UNIDO representative, Mr. Levy Maduse, conveyed UNIDO's appreciation to the government of South Africa and the DMRE for their leadership in the regional EELA program, as well as their continued support in driving the Sustainable Development agenda.
Funding for a Sustainable Future
The equipment was demonstrated during the handover event, and virtual training on its operation, use, and maintenance will follow shortly. This mobile lighting testing equipment was acquired for all 21 member countries within the EAC and SADC regions as part of the capacity-building activities of the Energy Efficient Lighting and Appliances (EELA) project. This project aims to foster vibrant markets for energy-efficient lighting and appliances across the two regions.The project is funded by the Swedish International Development Cooperation Agency (Sida) and implemented by UNIDO in collaboration with SACREEE and the East African Centre of Excellence for Renewable Energy and Efficiency (EACREEE). The Project Coordination Unit for the project operates from the two regional centers.